Independent partner clinic building on EuroPainClinics® medical expertise and experience.
Due to high demand for our procedures performed in Bardejov, we have also been providing medical care in Bratislava since January 2015, at the same time meeting the needs of our patients from western and central part of Slovakia. We specialize in modern diagnostics and pain-syndrome treatment, focusing on back-pain relief. Similarly to Bardejov, the Bratislava facility is closely connected to the physiotherapeutic, neurological and neurosurgical facilities in Slovakia and functions under the name of EuroPainClinics. The head physician is MUDr. Martin Griger, a specialist with expertise in interventional pain management, which he gained during his long-term professional stay in Ireland. MUDr. Griger also passed a specialist certification in interventional pain management.
Consulting hours
MON 7.00 - 15.00
TUE 7.00 - 15.00
WED 7.00 - 15.00
THU 7.00 - 15.00
FRI 7.00 - 15.00
---
Contacts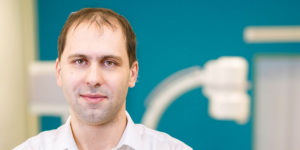 Dr. Martin Griger
Consultant in Pain Medicine
Kominárska 5
834 01 Bratislava - Nové Mesto
Contact us
---
How to get to us?
From the train station:
Take the tram no. 2 Blumentál station, where change to tram no. 3, 5 or 7 to the station Račianske Mýto.

From the bus station:
Bus no. 201 or trolleybus no. 210 from station to station SAV to Račianske Mýto. From the stop Račianske Mýto continue straight about 100 meters down the street Račianska. The first turn right is Kominárska street. After about 20 m walking you can already see a banner on the building in which we find ourselves.
---
City of Bratislava
Bratislava is the capital of Slovakia with a population of about 500,000, the country's largest city. The greater metropolitan area is home to more than 650,000 people. Bratislava is in southwestern Slovakia, occupying both banks of the River Danube and the left bank of the River Morava. Bordering Austria and Hungary, it is the only national capital that borders two independent countries.
Bratislava is the political, cultural and economic centre of Slovakia. It is the seat of the Slovak president, the parliament and the Slovak Executive. It is home to several universities, museums, theatres, galleries and other important cultural and educational institutions. Many of Slovakia's large businesses and financial institutions also have headquarters there.
The history of the city has been strongly influenced by people of different nations and religions, namely by Austrians, Croats, Czechs, Germans, Hungarians, Jews, Serbs[6] and Slovaks (in alphabetical order). The city was the capital of the Kingdom of Hungary, a part of the larger Habsburg Monarchy territories, from 1536 to 1783 and has been home to many Slovak, Hungarian and German historical figures.